Library System

Campus library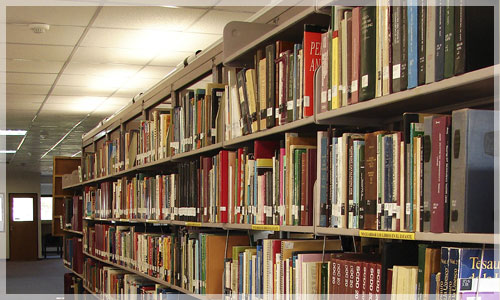 Campus Library is situated at Kariavattom campus. It was started in 1976 mainly to extend the library facilities to the campus community. It was envisaged as a reference collection initially stocking important reference books and textbooks prescribed for the various courses and materials useful for research scholars with a view to supplement the library resources of the departments. The selection, ordering and technical processing of the documents are carried out by the library independently and it has its own budget allocation. Still it continues to be a reference library and was put in charge of controlling the campus LAN. In addition to the reference facility, the library provides reprographic, internet and UGC-Infonet E-Journal services. The space constraint which was the main hurdle in the development of the library is  over with the commissioning of the two storied  new building  with an area of 1238 sq.m in 2006.  It has a modest collection of over 7000 books and subscribes to over 60 periodicals.
Department Libraries

All the 43 teaching departments of the University have their own independent libraries.They are scattered on two major campuses- 34 at the Karivattom Campus, 6 at the Senate house Campus. Department of Library and Information Science in the Kerala University Library Building, Department of Music at the Govt. Women's college campus, Vazhuthacaud and the Department of Education at Thycadu. The departmental libraries function under the direction of the head of the respective departments.
Study Centre Libraries

University Study Centre, Alappuzha is functioning as a Reference Library for the Post Graduate Students, Research Scholars and Faculty members of the affiliated colleges of the University of Kerala in the District of Alappuzha and to the students of the Institute of Distance Education, UITs, B.Ed Centres, IMK extension centre etc. University Study Centre, Kollam is functioning at SN College Campus, Kollam. It continues to serve the needs of the students and teachers of the affiliated colleges in and around Kollam.  Study Centre Library at Pandalam is intended to cater the information need of the students and teachers of the affiliated colleges in and around Pandalam. It is functioning at NSS College campus Pandalam, Pathanathitta District.